Senior Product Engineer (Electromechanical)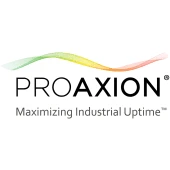 ProAxion
Other Engineering · Full-time
Cary, NC, USA
Posted on Monday, April 17, 2023
About the Company:
ProAxion is revolutionizing the way industrial facilities operate and perform maintenance. We bring the Internet of Things (IoT) to life by utilizing the latest in sensor and cloud-computing technology to solve real problems. Our wireless cloud-connected sensor system monitors real-time machine health and helps customers predict when machines require service, which helps them improve uptime and reduce total cost of maintenance.
About the Role:
We are seeking a highly skilled and experienced Senior Product Engineer to join our team. The ideal candidate will have expertise in electromechanical design, electronics manufacturing, and embedded systems. The Senior Product Engineer will be responsible for designing and developing new products, troubleshooting and improving existing products, and ensuring that all products are manufactured to the highest quality standards.
Responsibilities:
Design and develop new products from concept to production, ensuring that they meet all design and performance requirements.
Improve existing products to enhance functionality, performance, and quality.
Create and manage product specifications, design drawings, and BOMs for new and existing products.
Work closely with Product Management and Sales to incorporate design feedback and feature requests, including field testing and prototype development.
Work with cross-functional design teams including Mechanical Engineers, Electrical Engineers, and Firmware Engineers to develop and integrate systems.
Develop test plans and procedures to validate product functionality and performance.
Troubleshoot and resolve issues related to product design, manufacturing, and testing.
Conduct design reviews and provide feedback to ensure that products are designed and developed to the highest standards.
Collaborate with suppliers and manufacturers to ensure that products are manufactured to the highest quality standards.
Provide technical support to customers, sales teams, and other internal stakeholders.
Stay up-to-date with industry trends and emerging technologies.
The Ideal Candidate:
Has 5-10 years of experience in a product engineering role, with a focus on electromechanical design and manufacturing.
Has experience working closely with embedded systems, including firmware programming in C/C++, linux, and debugging using JTAG, SWD, or UART.
Has a strong understanding of manufacturing processes, including PCB assembly, SMT, and electromechanical assembly best practices.
Is familiar with product regulatory requirements including EMC, FCC, UL, and CE.
Has excellent problem-solving and troubleshooting skills and works well independently or part of a team.
Possess strong communication and interpersonal skills.
Has a Bachelor's or Master's degree in Mechanical Engineering, Electrical Engineering, or a related field.
Has startup experience.
Is willing to travel as needed.
If you are a self-motivated, results-driven, and experienced Product Engineer with expertise in manufacturing of electromechanical products and embedded systems, we encourage you to apply for this exciting opportunity. Join our team of experts and help us build innovative and cutting-edge solutions.
ProAxion is an equal opportunity employer.